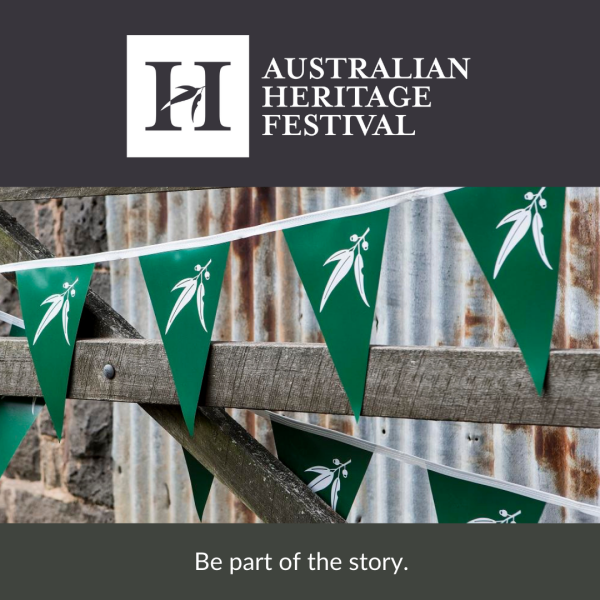 Australian Heritage Festival 2023
For more than 40 years, the National Trust has hosted The Australian Heritage Festival as a way, in their own words, 'to connect the nation in its celebration of our heritage with a national program of events'
The festival runs from 10 April – 14 May, and celebrates all aspects of our Australian heritage, be it built, natural or cultural in its nature.
The theme for 2023 is 'Shared Stories'. This year, for the Australian Heritage Festival, Camden Library is presenting, 'Telling Tales', an exhibition that looks at the ways Camden's residents have stayed connected throughout its history. It focusses on how we share stories of our experiences including reading and hearing local news stories and listening to oral history recordings. Nowadays, we can interact with social media platforms to let friends and families learn of what is happening in our lives – as it happens!
We can also use stories of our past to follow changes that have happened to where we live. This exhibition looks at just four of the places in Camden that illustrate the growth of our area. Sharing stories about these locations helps us relate to community ties and establishes our cultural identity. By looking at its wealth of history we can see how the Camden community evolved as it grew, honouring the memories of its people and places.
Camden Library Services presents an online exhibition:
Telling Tales
Macaria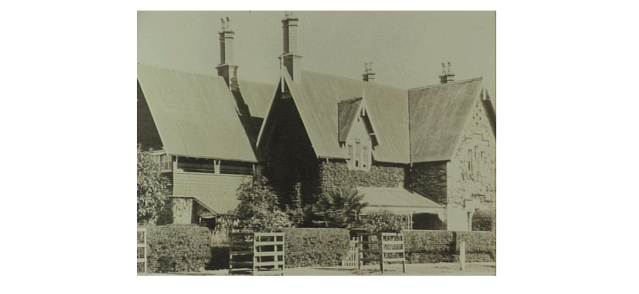 Macaria, c. 1870s, courtesy of Camden Library Local Studies, CLS 0120
The first location to share its story is a house called 'Macaria' has seen many changes to its use and the original purpose of its construction. It was built by Henry Thompson around 1859-1860 and intended to be a schoolhouse. Henry lived there with his large family of 16 children until 1870.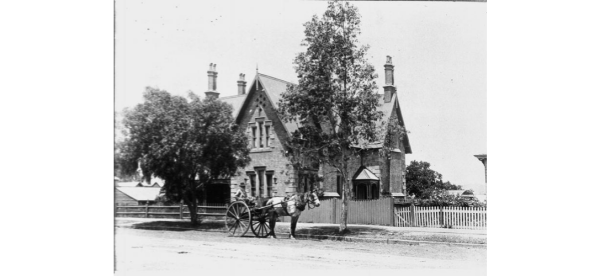 Macaria, c. 1890s, courtesy of Camden Library Local Studies, CHS 0646.
Henry Thompson is remembered along with his brother Samuel, for building the first water driven mill in Camden. It was situated on the corner of Edward
and Argyle Streets. He also built the steam driven mills on the site where Camden Tweed Mills were located.
Macaria later became the residence and surgery for several doctors including Dr Frank West. He set up his medical practice in 1901 and remained there until his untimely death in 1932. As well as being a very popular local doctor, he was involved in many community groups and sporting clubs. When he died in 1932, his funeral was one of the largest ever seen in Camden.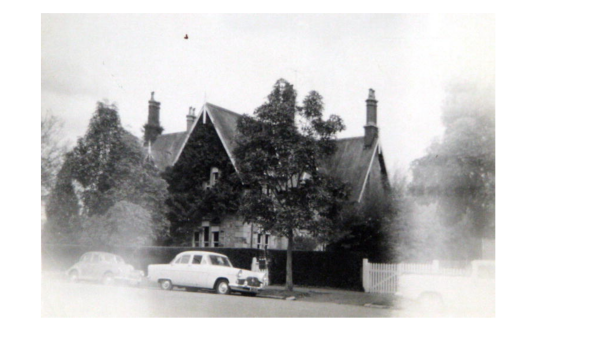 Macaria, c. 1960s, courtesy of Camden Historical Society. CHS2476
Macaria was the home of Camden Grammar School for a number of years. The Gothic styled house was bought by Camden Council in 1965. After providing office space for Camden's mayor and clerical staff, it was then used as the site of Camden Library Services. The building was renovated in 2017 and is now the home of the Alan Baker Art Gallery.
One of the stories shared about Macaria is that it is haunted. We would love to receive any feedback from visitors who have experienced "supernatural' encounters!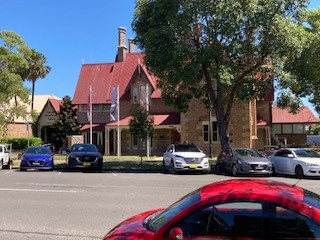 Macaria, 7 March 2023, courtesy of Camden Library Local Studies.
Paramount Picture Theatre
The Paramount Picture Theatre opened in Elizabeth Street Camden in 1933. The sole proprietor was Mr D J Kennedy who retained the services of renowned theatre designer, G.N. Kennedy to design the building.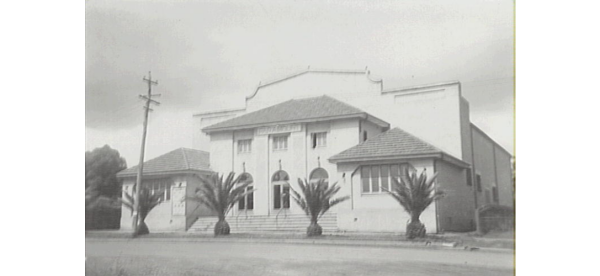 Paramount Picture Theatre, 39 Elizabeth Street Camden, 1940s, courtesy of Camden Historical Society. CHS 0499
The theatre had a state of the art 'Western Electric Sound System' guaranteeing high quality soundtracks for films. The theatre itself was reported to seat over 900 guests. Mr Kennedy signed contracts with Paramount Films, First National Pictures, Fox Film Company, and Radio Pathe to ensure new release films were available to his audiences.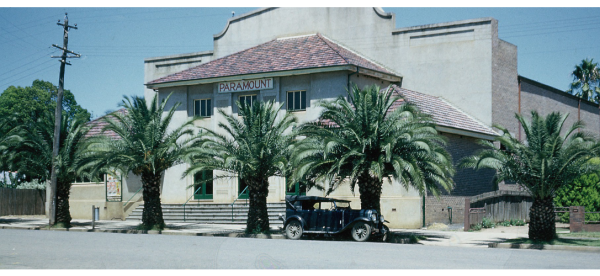 Paramount Picture Theatre, 1950, courtesy of Camden Historical Society. CHS 3188.
By June 1933, Mr Kennedy had leased the enterprise to Mr Rowley D Martin. In June 1934 it was amalgamated under the proprietorship of the Empire Theatre, located across the road from the Paramount.

During its time as a picture theatre, the building was also used for a number of community events. Fundraisers, featuring musical programmes were held in aid of groups such as the Red Cross and Camden District Band Association. Social events were regularly held there, including the C.W.A's annual dance. Camden Council also paid to advertise its services, including the library. Community education films were also shown e.g., an informational film on diphtheria vaccinations was shown in 1947.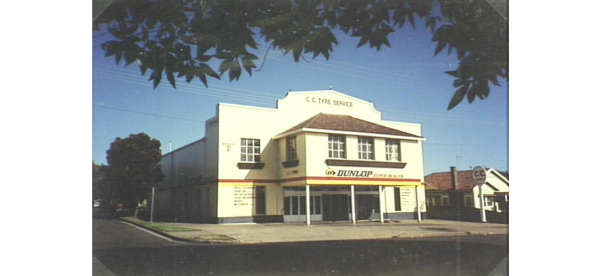 C.C. Tyre Service, 1993, courtesy of Camden Historical Society. CHS0426
Unfortunately, the picture theatre was closed down around 1958/59. It subsequently became the site of several successive tyre services and remains to this day to serve this purpose.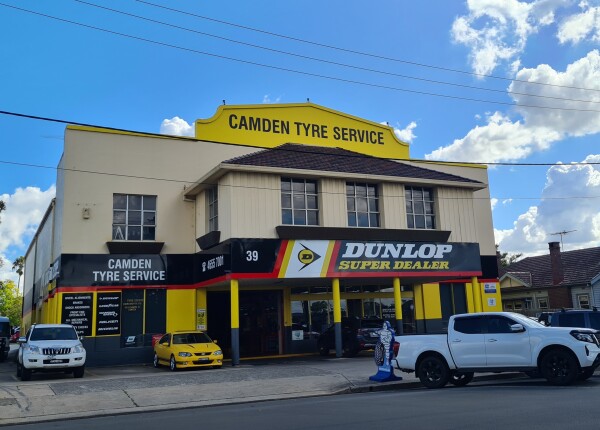 Camden Tyre Service, 2023, courtesy of Camden Library Local Studies.
St Paul's R.C. Church, Camden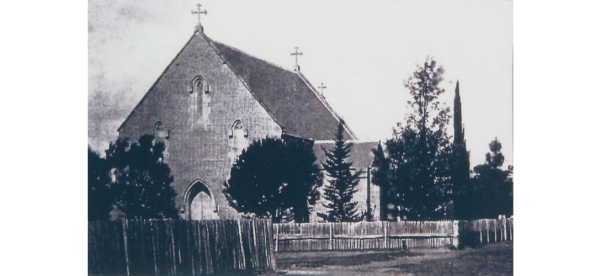 St Paul's Catholic Church, 1870s, courtesy of Camden Historical Society. CHS 2312.
St Paul's Catholic Church had its foundation stone laid by Archbishop Polding in 1859 and was completed within 9 months of this event. The building was designed by William Munro and built by J. Elphinstone.
It replaced an earlier church built in 1845, that had been outgrown by its parishioners. It was built on land that had been donated in 1840 by the Macarthur family. The old church at that time was then used as a school room.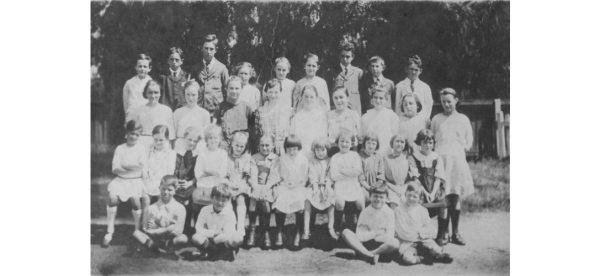 Pupils at Paul's Catholic School (formerly St Josephs Convent School), 1920s, courtesy of Camden Historical Society. CHS 2312.
In 1883, two nuns from the order of the Sisters of St Joseph came to the parish and established the St Joseph's Convent School. There were 56 children enrolled in the first year of the school. In 1900 the original old church was demolished and a new school building was opened in 1901.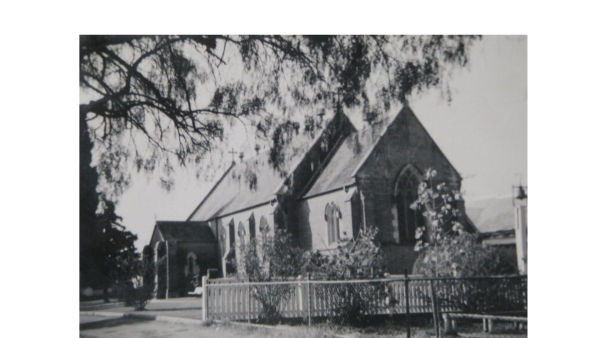 St Paul's Catholic Church, 1963, courtesy of Camden Historical Society. CHS 2312.
The school, now known as St Paul's Catholic School, is now part of one of Sydney's largest parishes. The church now has a bell tower, built in 1987. It did not have any working bells until 2015, but now the tower contains three chambers. In the top chamber there is a 360 kg. bell, six bells are located in the middle and there is space for bell ringers in the bottom. It took a period of 3 years for the bells to be planned, ordered and received from England, where they were made.
Wivenhoe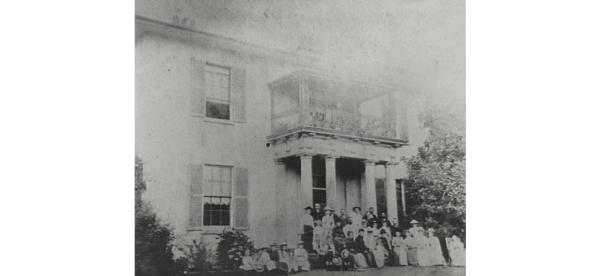 Wivenhoe, post 1830s, courtesy of Camden Library Local Studies CLS 0129.
The historic house of Wivenhoe was designed by John Verge and built in 1837. The house was built by Charles Cowper on a land grant of 60 acres, originally given to his father William in 1812.
Charles Cowper is remembered as being chosen as Premier of NSW on five occasions, between 1856 and 1870. The house is named after the birthplace of his wife whose family were from Wivenhoe in Sussex.They had two sons and four daughters. They also established one of the first vineyards in the colony. There were wine cellars under the whole of the ground floor of the house.
After William left Australia to take up a government position in England, the house was lived in by the Thomas family, followed by the Watts. In 1910 it was sold to the Sisters of the Good Samaritan. They established an orphanage for disadvantaged children from the inner city. The house became part of Mater Dei.
Wivenhoe grounds, post 1830s, courtesy of Camden Library Local Studies CLS 0124.
In 1957, the Bishop of Wollongong saw the need for a school for children with physical and developmental disabilities. He requested that the Sisters open such a facility at Mater Dei. The Special Needs school is still operating, providing education and therapy services for children and youth.
Since 2021, the house has no longer been open to the public. It now hosts 'Next Path Continuous Learning'.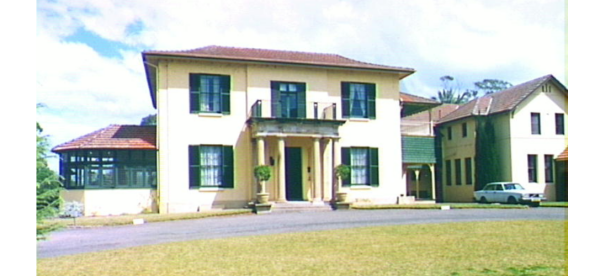 Wivenhoe, 1997, courtesy of Camden Library Local Studies CLS 0129
Camden Area Family History Society
'Shared Family Stories'
Visit our display of local family connections throughout the festival.
CAFHS research room in Camden Library.
Camden Historical Society
Camden Historical Society would like to invite members and friends to their general meeting, to share family stories.
12 April, 7.30pm.
Camden Museum
For more information, please visit or contact Camden Library Local Studies at Researching Camden
Visit our online collection of historical photographs at Camden Images.
Camden Museum and Camden Historical Society at www.camdenhistory.org.au
Camden Area Family History Service www.cafhs.org.au